New Jersey storage units near you
The Community
Self-Storage in New Jersey
At Storage Post, we know that you refuse to be defined by all the old junk in your home. And that's why we're offering you a safe space to export your old personal belongings, allowing you to declutter your home or workspace once and for all and regain your freedom. If you live near one of our self-storage facilities in the New Jersey area, you are right around the corner from a better life with enhanced freedom.
The New Jersey Community
New Jersey is one of a kind because it has a little bit of everything; The Garden State is the home of lots of nature and wildlife attractions, in addition to many lively urban hot spots like Trenton and Camden — not to mention, plenty of suburban neighborhoods just a short commute from Philadelphia and New York.
With such a broad range of lifestyles suited for life in New Jersey, it's no surprise that New Jersians have very unique self-storage needs. From boats, canoes, kayaks, and ATVs to scrap metal, antique furniture, and gardening supplies, folks from New Jersey have lots of stuff that they can't use year-round, in addition to old stuff that they don't need in their homes. That's where we come in.
Storage Post Self-Storage Centers in the New Jersey Area.
Storage Post's self-storage facilities in North Jersey offer convenient access to residents and businesses that need extra storage space. The addresses of our three locations in the New Jersey area are as follows:
 
If you live near one of our facilities, congratulations — you are right around the corner from a new home for your junk! With highly-secure, climate-controlled units at each of our facilities, you will have all the reassurance you need that your goods will be safe while under our watch.
About New Jersey Self Storage
We love everything about New Jersey — the nature, the boardwalks, the shore, the farmer's markets, and the people — which is why we are proud to provide storage for the diner capital of the world. We will work with you to provide custom storage solutions to suit your needs, whether you're storing Frank Sinatra records or Devils gear. Stop by and say hello today!
Reserve Your Self-Storage Unit Today!
Are you ready to start storing your stuff at the safest, smartest self-storage facility in the State of New Jersey? With the help of Storage Post, you will finally free yourself from the piles of junk filling up your home or business. Our friendly storage experts can provide all the help you need while loading and unloading, and we even have moving supplies on hand to help you every step of the way. To learn more about our excellent self-storage facility, call us with any questions you have, and let us know when you are ready to reserve a unit!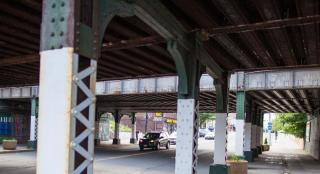 *Terms and Conditions Apply
Up To Two Months Free!
For a limited time, get up to two months rent free on selected units.