The Community
Bronx Self-Storage
The Bronx Community
Bronx weekenders do a lot of day-tripping, souvenir-ing, site-seeing, and event-attending — so it almost goes without saying that they are susceptible to a cluttered living space. To de-clutter your home and your life, look no further than our self-storage centers in the Bronx.
Storage Post provides Bronx residents with a vast variety of self-storage options, including indoor and outdoor units that have assorted size options. With several locations scattered throughout the Bronx, you are sure to find a Storage Post self-storage facility near you that suits your needs.
Storage Post Self-Storage Facilities Near the Bronx:
With self-storage centers located on Bruckner Boulevard, W. Fordham Road and Park Avenue, folks from the Bronx can easily find their items a new place that is close to home. Check out our facilities in and around the Bronx below:
Your old junk and excess personal belongings have no idea that a better life awaits them at Storage Post. Our self-storage facility is a safe haven for random household items that Yankees fans will inevitably throw against the wall next time one of their superstars hits the injured list. Relax — you can keep all 27 rings safe for the rest of your life at one of our Bronx storage centers. 
About Bronx Self Storage
There are a ton of people living in the Bronx. You know what that means? There is even more unneeded stuff living in the Bronx. Just do the math — there are over 1 million people living in this one county. Of course, most of you likely have a designated space or storage room in your home where you keep all the junk you don't need. Sadly, this simply isn't enough for many Bronx residents. Why would you want to waste your precious living space on stuff that isn't even alive? Maybe you haven't felt alive in a while, because junk is taking over your life. It's time to reclaim your territory — evict that junk! We understand that you don't want to say goodbye forever; you just need some (storage) space.
Bronx Self Storage Security
With 24-hour surveillance cameras, perimeter fencing, and alarm systems integrated throughout each unit in our Bronx self-storage centers, you can rest assured that your stuff won't be stolen. Every part of each of our facilities — including parking spaces — has controlled access points. In other words, you are the only living soul capable of accessing your unit (and whoever else has the access code).
Why Storage Post?
We are committed to providing safe spaces for your stuff to live peacefully, so you can restore your home to its comfortable, less-cluttered state. Whether you are moving to a new home or office, or you simply want a place to keep extra stuff, we are equipped with the resources needed to handle all your storage needs. Contact our team of friendly storage experts today to learn more!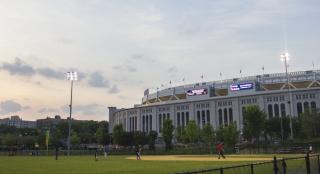 *Terms and Conditions Apply
Up To Two Months Free!
For a limited time, get up to two months rent free on selected units.