Bronx, New York storage units near you
The Community
Self-Storage in the Bronx
If you're looking for self-storage in the Bronx, we've got you covered. 
The Bronx is the northernmost borough of New York City, and the only one that is located on the mainland. As the home of American League baseball team the Bronx Bombers, more commonly known as the New York Yankees, as well as their unapologetic fans the Bleacher Creatures, you better believe that the Bronx is 100 percent unique. Just hope you aren't sitting too close if the notorious "Bronx cheer" is spurred by a bad umpire call.
Curious to learn more about the Bronx? Read on.
The Bronx Community
When Henry Hudson took shelter from a storm in Spuyten Duyvil Creek in 1609, he was probably the first European to set eyes on what would later become the Bronx. Swedish sea captain Jonas Bronck set up a small settlement in 1639 on what is now East 132nd Street and Lincoln Avenue. He was joined by German, Dutch and Danish servants, although since they were indentured, "joined" is a bit of a misnomer. Prior to the American Revolution, 10-15% of the population were slaves from the West Indies. The first "free black" was noted in the census in 1698. 
The first bridge connecting the Bronx to New York City was built in 1693 by Frederick Philipse. It ran from Spuyten Duyvil to Marble Hill. An enterprising sort, he made The King's Bridge a toll bridge, unless you were a British soldier, and then you could cross for free (we said he was enterprising, not stupid). George Washington destroyed it while fleeing the British in 1776, and it was later rebuilt. 
Manhattan likes to brag about Central Park, but the Bronx is home to Pelham Bay Park, which is three times bigger. The Bronx is also home to the Bronx Zoo, which has been around since 1899, and was co-created by a taxidermist, which is cool and creepy at the same time. It's home to over 10,000 animals, and was the first zoo to have a modern animal hospital. 
You can even visit Edgar Allan Poe's cottage in the Bronx. Built in 1812, it is on the National Register of Historic Places, and legend has it he wrote "Annabel Lee" while living in the cottage. 

Hip hop was born in the Bronx, and Fat Joe and Cardi B are both proud Bronx native. So was Jennifer Lopez, back when she was still Jenny from the Block. Gary and Penny Marshall called the Bronx home, and so did Stan Lee (famous for Marvel Comics and a little franchise of movies called the Avengers). Neil deGrasse Tyson also attended the Bronx High School of Science on his way to becoming an astrophysicist. 
About 1.4 million people call the Bronx home. Since 56.4% identify as Hispanic, it's no wonder that salsa dancing originated in the Bronx in the 1940s (yep, it's true).  
Storage Post Self-Storage Facilities Near the Bronx
We have several Storage Post self-storage facilities in the the Bronx area, so we're sure to have a nearby location to meet your needs:
Why Choose Storage Post?
If you're new to the Bronx, we put together a guide to some of the best neighborhoods to help you out. Most people in the Bronx live in apartments, and they aren't usually big on storage. One easy solution is to use self-storage for things like out-of-season clothing, collectibles or bulky sports equipment. 
Weather in the Bronx has the same attitude as the Bleacher Creatures: loud and unapologetic. In the summer, it can be hot and humid with temperatures averaging around 88°F in July and August. In the winter, it's cold and snowy with average temperatures of about 45°F. That means you need puffer coats, boots, hats and mitts in the winter, plus cute shorts, sandals and tank tops in the summer. Since temperature fluctuations are no good for people or for clothing, furniture, paper, photos and other valuables, a climate-controlled self-storage unit will be your new BFF. 
Many of our Storage Post locations offer 24-hour access and drive-up units, and all our locations have state of the art security measures such as digital access codes, 24/7/365 security cameras, bright, motion-activated lighting and fenced and gated facilities. We are committed to your safety, and to the safety and security of your possessions.
Sometimes life throws you a curveball, and you need a self-storage solution for a couple of months. If you are a Fordham University student and need a place to store your belongings between terms, for example, we've got you covered. If you are figuring out your next adventure, are new to the city or just need some extra space, we welcome both short- and long-term rentals. And you can view, rent, sign the contract online, and manage your account from the comfort of your couch. 
Why not drop into one of our convenient locations and talk to our friendly staff about how self-storage can help you live life in the Bronx!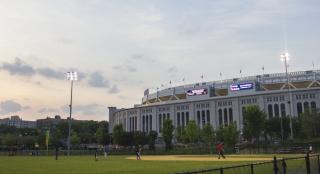 *Terms and Conditions Apply
Up To Two Months Free!
For a limited time, get up to two months rent free on selected units.