Brooklyn, New York storage units near you
The Community
Self-Storage Units in Brooklyn
If you're looking for self-storage in Brooklyn, we've got you covered. 
Brooklyn is geographically part of Long Island. It's located on the east end of the island, and is separated from the New York mainland by the East River. It officially became a settlement in 1636, when a bunch of Dutch farmers decided it would be a fine place to live. A census in 1890 identified it as the fourth largest city in the United States. It chose to become a borough of New York City in 1898. It's still the largest borough, and if it were still a city, it would be the third largest in the US, right after Los Angeles and Chicago. How do you like them apples?
Curious to learn more about Brooklyn? Read on.
Brooklyn Community
Brooklyn was the site of the Battle of Long Island during the Revolutionary War which was a good night for the British and a not-so-good night for the Patriots. Fort Putnam, under the command of General Nathaniel Green, protected Washington et al while they retreated. Fort Putnam later became Fort Greene, and was used for defensive purposes during the War of 1812. 
In 1883, Brooklyn became tethered to Manhattan via the Brooklyn Bridge, which was and remains the longest suspension bridge in the country. P.T. Barnum, never one to miss an opportunity, marched 21 elephants across the bridge in 1884 to prove it was solid. 
Walt Whitman called Brooklyn home, and among his other poems, wrote "Crossing Brooklyn Ferry" in 1856 under the title "Sun-Down Poem," before it was revised and retitled in 1880. It is included in his anthology, Leaves of Grass, which features other works such as "I Sing the Body Electric," "When Lilacs Last in the Dooryard Bloom'd" and "Song of Myself". 
Coney Island is in Brooklyn, and has been around since the 1880s. Hot dogs in a bun were invented on Coney in Brooklyn in 1867 when Charles Feltman slapped a sausage on a bun so beach-goers could eat without tableware. They weren't without controversy, though, since Feltman's bun slicer Nathan Handwerker decided to open a rival hotdog shop in 1916, neatly undercutting Feltman's.  
Nathan's Famous Hot Dogs still holds a hot dog eating contest every year on the 4th of July (but doesn't serve Feltman's). The current record is 76 hotdogs and buns in 10 minutes, held by Joey Chestnut, who also held the previous world record of 75 hotdogs and buns in 10 minutes in 2018. Chestnut, who is from Westfield, Indiana, also holds a world record for world records: he holds 46 across 46 categories, including 182 chicken wings in 30 minutes, 141 hard boiled eggs in 8 minutes and 121 Twinkies in 6 minutes. Bet he's banned from every all-you-can-eat buffet in the US. 
In addition to hotdogs in a bun, Brooklyn also invented Bazooka bubblegum, egg creams, Ebinger's Brooklyn Blackout Cake and deep fried Twinkies.
The teddy bear was even invented in Brooklyn by toymakers Morris and Rose Michtom in honor of then-president Theodore Roosevelt. 
Niche.com gives Brooklyn an overall A rating, with top marks for family-friendliness, outdoor activities, nightlife, diversity and health and fitness. 
Storage Post Self-Storage Facilities Near Brooklyn
We have several Storage Post self-storage facilities in the Brooklyn area, so we're sure to have a nearby location to meet your needs:
Grand Ave Location Brooklyn 
Atlantic Ave Brooklyn
Why Choose Storage Post?
Most people in Brooklyn live in apartments, and they aren't usually big on storage. If you're new to the area, we put together a guide of some of the best neighborhoods. We also understand that Brooklyn, like all of NYC, has some unique storage challenges, and we are here to help. 
New Yorkers are no strangers to the whims of Mother Nature, who sometimes likes to throw all four seasons at them in 24 hours. Extreme temperature fluctuations are tough on people, and even worse on clothing, furniture, collectibles, photos and documents. That's why Storage Post locations have climate controlled units that keep things cozy in winter and cool in summer. 
Life in the Big Apple is non-stop, and not everyone works 9–5 hours. We get that, so we have state of the art security measures such as personal digital access codes, 24/7/365 security cameras, and motion-activated lighting. Many locations even offer 24-hour access so you can come and go on your schedule and still be safe doing it.
Sometimes life throws you a curveball, and you need a self-storage solution for a couple of months. Maybe you're between apartments, or maybe you got the swing part in the touring production of Dear Evan Hansen, so you need a place to store your stuff while "you're waving through a window."  Whatever the case, whether you need short or long-term storage, we're here to help you find the perfect self-storage unit to fit your needs.
And commercial space in NYC is expensive, so we also welcome business and commercial accounts. Whether you need a space to store inventory, supplies, equipment or even to use as a workspace to launch your business, we are happy to work with small businesses. Just no living in the storage unit, that's not allowed. 
Why not drop into one of our convenient locations and talk to our friendly staff about how self-storage can help you live life in Brooklyn!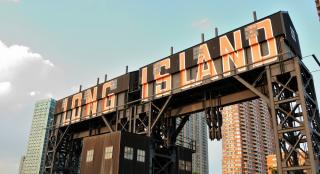 *Terms and Conditions Apply
Up To Two Months Free!
For a limited time, get up to two months rent free on selected units.